Biomass, Recycling, Valorisation of By-Products: POITTEMILL Invests into the Future
For many years, one of the biggest areas of research and development in the size reduction industry has been how to use shredding and separation technologies to recycle our waste, add value to low value products or extract useful materials from everyday waste.
This problem of recycling, but also that of the place taken by waste, is becoming more and more widespread: polymers, plastics, electronic waste… Combined with the fact that most of these products have a short life expectancy and are easily replaced, it goes without saying that the criterion of waste recycling becomes essential to avoid suffering the consequences of today on our near future.
To date, efficient recycling methods exist, and they all have one important step in common in their process: particle size reduction and separation. The cost of implementation of these processes and their operation are major factors of their feasibility. Also, Great attention is paid to the relationship between shredding efficiency and energy savings in order to have the perfect balance between shredded product quality and power consumption.
For over 85 years, POITTEMILL and FORPLEX have been committed to the future of the grinding industry. The aim is to provide equipment with efficient grinding technologies and to have a finished product that can be easily incinerated or reused in other process steps. This strategy is part of the sustainable development is one of the key of POITTEMILL for the future, offering equipment and solutions in technological break with the existing.
Attrition solution is one of the key
For example, the ATTRIMILL attrition mill is very useful in particle size reduction of fibrous materials, plastics or other materials that are not easily ground by conventional grinding technologies. This equipment will more easily accept heat-sensitive and soft materials without any cooling gas injection. This is achieved through a combination of three physical principles that generate highly efficient ultra-fine grinding: self-grinding of particles in upward vortices generated by a strong airstream, impact against the blades and stator, and shearing of particles between the blade tips and stator flutes. With specific adjustments for each product, and if necessary with the addition of a separator, the fineness of the ground product can reach a few tens of microns, and the grinding rate can reach up to 25 tons per hour with a single equipment.
POITTEMILL has also developed other processes with its attrition mill, notably in the sorting and recovery and revalorisation of valuable materials in electronic waste, motherboards and graphics cards of obsolete computers. This unique and patented process consists in simultaneously grinding and separating metals from polymers. This innovative solution, in line with the current trend to recycle all materials, makes it possible to treat a large part of the urban mines of electrical and electronic waste.
Other processes, using a different grinding technology, also allow new applications that participate in the renewal of the industry and fit perfectly into the sector of renewable energies and the revalorization of by-products. In order to preserve both natural resources and the environment, energy diversification is essential in the world of transport. For this reason, after several years of research, POITTEMILL is involved with the big names in energy in the development of a process of industrial transformation of biomass into biofuel and biokerosene, fuels complementary to fossil fuels, and valorizing inedible plant products. The technology of grinding by compression of the bed of material via a PM pendular mill allows the treatment of biomass previously prepared from plant waste of various natures (forestry waste, straw, dedicated energy crops,…,etc). The treated biomass is then converted into synthetic gas to produce biofuel.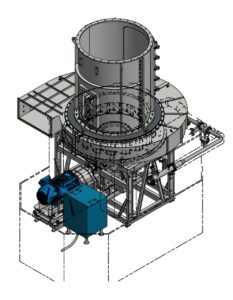 One word : sustainability
Finally, a third important sector is growing and is integrated into a sustainable development strategy: the industry of processing plant-based products into meat substitutes. If industrialists rightly attach great importance to proteins extracted from plants, many are concerned about the valorization of co-products such as fibers and/or starch which must have exploitable characteristics after processing. For example, in pea processing, only the kernel is used to produce special flours or for protein enrichment, while the pea hulls from the dehulling process may be wrongly considered as waste. Thanks to specifically adapted grinding and separation solutions, it is now possible to separate the kernels from the hulls while preserving the fiber, which will be used for other processing. Similarly, the starch will be modified to a greater or lesser extent depending on the milling technique used and the application and usage properties required. Everything must be able to be recovered and used to make the whole production value chain.
All POITTEMILL and FORPLEX solutions guarantee a stability of granulometry and temperature (thanks to regulated systems) and an easy maintenance. Moreover, these solutions can be accompanied by an automatic system (PLC and supervision screen) ensuring the safety of the installation and the operators, as well as the optimization of the production and the quality of the finished product, with an operational mode that can be 100% automatic in a 4.0 way.
The possibilities of grinding and classifying are therefore endless and affect all sectors of activity: minerals, natural ingredients, energy and fuels, electronic waste… It is everyone's duty to be an actor in the change that is taking place in the industry in order to valorize everything around us and avoid overconsumption.
Most of the solutions proposed by POITTEMILL and FORPLEX are available for demonstration or trial in our pilot and R&D station, located in the North of France, in Béthune, 30 minutes from Lille. Do not hesitate to contact POITTEMILL and FORPLEX for more information.